We meet Heather Gillett from Envigor's allied health partner Xtra HomeCare, and find out how allied health services such as physiotherapy and occupational therapy can help clients thrive at home.
Tell us about what you do
We deliver mobile physiotherapy and occupational therapy services to clients across community, retirement and residential care environments. Our physiotherapy services include rehabilitation therapy, musculoskeletal intervention, falls prevention and balance strategies. Occupational therapy provides support with activities of daily living, equipment prescription and home environment assessment.
We provide one-on-one physiotherapy and occupational therapy assessment and intervention for Envigor clients, as well as group therapy programs and education sessions across a number of supported living arrangements.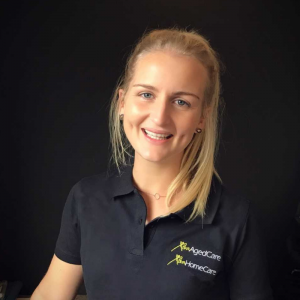 How can an allied health plan benefit those ageing at home?
Physiotherapy and occupational therapy services are focused around optimising the client's functional performance, independence, reducing pain and risk of falls, and increasing access to community and social supports.
By improving the client's mobility, balance and confidence and reducing barriers such as pain, environmental obstacles or need for assistive equipment, we are able to make very valuable changes in the client's functional performance and quality of life.
What are some of the ways you've been able to improve quality of life for those receiving home care?
There are so many different ways that our intervention has a positive impact on quality of life.
Assistive equipment allows clients to have improved access to all areas of the community and their social supports.
Reducing pain increases a client's endurance in order to be more independent with their activities of daily living.
Improving mobility allows clients to get to where they need to be and reduced social isolation.
Reducing the risk of falls significantly increases and improves the quality of life for the client by minimising injuries and allowing for ongoing improvement, as opposed to requiring rehabilitation post-fall.
What are your key tips for those living at home and aiming to improve their mobility?
If you don't use it – you will lose it! The best way to maintain mobility and functional performance is to continue to move and use your skills on a daily basis. Making small choices to engage in meaningful tasks and movement activities will help you to retain your independence!
What are your favourite parts of your job?
I love to support clients who are motivated to maintain and improve their physical function and social connectedness. The seemingly 'small wins' seen during clinical reviews and multi-disciplinary team problem solving has such a big impact on the quality of life of the client!